Baseline characteristics and risk factors for ulcer, amputation and severe neuropathy in diabetic foot at risk: the BRAZUPA study
Diabetology & Metabolic Syndrome
2016
8:25
Received: 28 August 2015
Accepted: 25 January 2016
Published: 17 March 2016
Abstract
Background
Studies on diabetic foot and its complications involving a significant and representative sample of patients in South American countries are scarce. The main objective of this study was to acquire clinical and epidemiological data on a large cohort of diabetic patients from 19 centers from Brazil and focus on factors that could be associated with the risk of ulcer and amputation.
Methods
This study presents cross sectional, baseline results of the BRAZUPA Study. A total of 1455 patients were included. Parameters recorded included age, gender, ethnicity, diabetes and comorbidity-related records, previous ulcer or amputation, clinical symptomatic score, foot classification and microvascular complications.
Results
Patients with ulcer had longer disease duration (17.2 ± 9.9 vs. 13.2 ± 9.4 years; p < 0.001), and poorer glycemic control (HbA1c 9.23 ± 2.03 vs. 8.35 ± 1.99; p < 0.001). Independent risk factors for ulcer were male gender (OR 1.71; 95 % CI 1.2–3.7), smoking (OR 1.78; 95 % CI 1.09–2.89), neuroischemic foot (OR 20.34; 95 % CI 9.31–44.38), region of origin (higher risk for those from developed regions, OR 2.39; 95 % CI 1.47–3.87), presence of retinopathy (OR 1.68; 95 % CI 1.08–2.62) and absence of vibratory sensation (OR 7.95; 95 % CI 4.65–13.59). Risk factors for amputation were male gender (OR 2.12; 95 % CI 1.2–3.73), type 2 diabetes (OR 3.33; 95 % CI 1.01–11.1), foot at risk classification (higher risk for ischemic foot, OR 19.63; 95 % CI 3.43–112.5), hypertension (lower risk, OR 0.3; 95 % CI 0.14–0.63), region of origin (South/Southeast, OR 2.2; 95 % CI 1.1–4.42), previous history of ulcer (OR 9.66; 95 % CI 4.67–19.98) and altered vibratory sensation (OR 3.46; 95 % CI 1.64–7.33). There was no association between either outcome and ethnicity.
Conclusions
Ulcer and amputation rates were high. Age at presentation was low and patients with ulcer presented a higher prevalence of neuropathy compared to ischemic foot at risk. Ischemic disease was more associated with amputations. Ethnical differences were not of great importance in a miscegenated population.
Keywords
DiabetesRisk factors for ulcerAmputationSevere neuropathyBrazil
Background
The rising prevalence of diabetes around the world has dramatically increased the number of people bearing complications of this potentially incapacitating disease [1]. Peripheral neuropathy and diabetic foot are among the most feared. They frequently terminate in ulcer, infection and amputation, significantly reducing quality of life [2]. The life expectancy of a person with lower limb amputation is comparable to that of other serious diseases, such as aggressive types of cancer or advanced congestive heart failure [3, 4].
Additionally, it is estimated that one person undergoes amputation every 20 s around the globe as a complication of diabetes and that up to 85 % of these procedures could be prevented with adequate screening [5].
The incidence of diabetes is rising more rapidly in developing regions such as Latin America and Southeast Asia than in Western Europe or North America [1, 6], putting a serious economic burden on the healthcare budgets of these nations. Given the disparities in health care access and the social, economic and ethnic differences between these regions, it is crucial to gain knowledge of the clinical characteristics and epidemiology of foot at risk in different areas of the world.
Additionally, several studies have highlighted the dissimilarities in diabetes incidence, management, prevalence and metabolic control, as well as risk and clinical evolution of foot complications [7, 8]. Studies on foot ulcers involving a significant and representative sample of patients such as the EURODIALE cohort [9] are scarce, especially in developing regions. In Brazil, in addition to the lack of descriptive data on foot at risk and ulcer prevalence, there are great dissimilarities between different regions regarding access to health care and socioeconomical structure that could lead to different presentations of foot at risk and diabetic foot complications.
Therefore, our aims were to acquire data on the clinical and epidemiological characteristics of a large cohort of patients from several centers in our country, all specializing in the evaluation and care of patients with diabetes and focus on factors that could be associated with the risk of ulcer and amputation.
Methods
This study presents cross sectional, baseline results of the Brazilian Cooperative Study on Ulcer, Severe Peripheral Neuropathy and Amputation (BRAZUPA), which is funded by the National Institute of Science and Technology—Obesity and Diabetes Division, in order to gather data on the current situation of foot at risk throughout the nation. One thousand fifty-five consecutive patients referred for evaluation of foot at risk to 19 different specialized diabetic centers in the country were included in the study. Among these, six included diabetic foot care units and the others started to structure theirs after the study beginning. Patients were referred from primary care facilities according to Brazilian National Health System (SUS) standard proceedings. All data were collected between June 2012 and July 2014 and each center submitted data collected during the first year after study entry. The four most populous of the country's five administrative regions were included, and the data can be considered representative for the whole country (around 200 million people at the time the study was initiated)—Fig.
1
.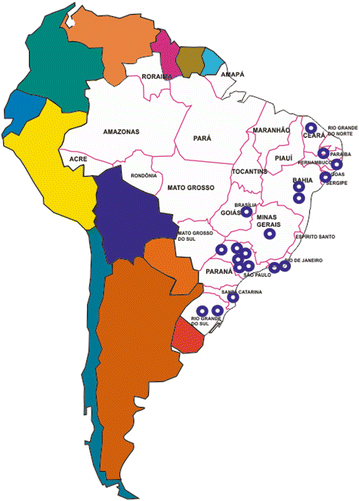 Trained personnel collected data during patients' routine evaluations and from the medical records of each institution. Data were collected on a standardized electronic sheet developed during a 6-month long pilot study involving 14 centers, simplified to allow input without compromising the routine care of patients. Dedicated personnel were trained in each center during the pilot study. The data collected was submitted to the coordinating center at the end of the first year (University of Campinas, Campinas, Sao Paulo, Brazil), where it was analyzed as a whole after all centers had submitted their information. Patient characteristics recorded included age, gender, ethnicity (white Latin, African descent, mixed ethnicity and Asian), diabetes and comorbidity related records, previous ulcer or amputation, symptom characteristics and clinical symptomatic score.
Foot at risk was classified as without risk, neuropathic, ischemic or neuroischemic. Neuropathy was defined as a positive result in clinical or symptomatic scores and/or an abnormal sensitivity test using a 10 g Semmes–Weinstein monofilament. Vibratory sensation was classified as present, diminished or absent according to the results of the 128 Hz tuning fork examination [5]. Ischemia was defined as diminished or absent pedal pulses or decreased ankle-brachial pressure index (ABI < 0.9) [5, 10]. Amputations were classified as minor (below the ankle) or major (ankle or higher). Ulcers were evaluated for their prevalence and etiological origin: ischemic, neuropathic or neuro-ischemic.
The presence of other microvascular complications was also evaluated. Retinopathy was assessed by standard fundoscopy by a trained ophthalmologist at each center and nephropathy by the presence of microalbuminuria and/or abnormal creatinine clearance (calculated using the Cockroft-Gault formula). Visual impairment was defined as abnormal Snellen chart test result despite the use of corrective lenses. Renal impairment was defined as creatinine clearance <60 ml/min/1.73 m2.
The study was approved by each institution's ethics in research committee as well as by the coordinating center's Ethics Committee.
Statistical analysis
Categorical data is shown as percentages; continuous variables as means (standard deviation—SD).
Comparison between groups of categorical data was made using the Chi Square test. Differences in continuous variables between two groups were evaluated by Student's t test.
Independent risk factors for ulcer and amputation were assessed by multiple logistic regression analysis. The model for ulcer included age, gender, type of diabetes, disease duration, ethnicity, BMI, smoking status, foot at risk classification (foot without risk as reference category), vibratory sensation, visual impairment, hypertension, renal impairment and macro region of origin. Adjustments were done by the forward conditional method. The model for amputation included all of the abovementioned variables with the addition of history of previous ulcer episode.
Statistical analysis was performed with SPSS version 20.0 (IBM Inc.). Significance was defined as a p value <0.05.
Conclusions
In conclusion, we found a high prevalence of ulcer and amputation in patients with foot at risk in Brazil. Additionally, we found a younger age at presentation and that patients with ulcer presented a higher prevalence of neuropathy compared to ischemic foot at risk. Ischemic disease remains a factor associated with amputations, probably as a determinant of poorer ulcer outcomes, as reported in other studies. Ethnic differences were not of great importance in a miscegenated population, and probably only reflect social and economic differences as well as health care access disparities. We hope the data presented here can contribute to the fast growing literature on diabetic foot and to understanding regional differences in factors affecting the prevalence of ulcer and amputation. This study will continue to follow up patients presenting with ulcer and data on their outcomes are expected in the next couple of years.
Declarations
Authors' contributions
MCRP conceived of the study, and participated in its design and coordination and helped to draft the manuscript. AMN helped to draft the manuscript. AMN and MJAS contributed to analyzing, reviewed and edited the data. FHM, MBG,RMT, JEPO,JRDP, RMCF, LBAG, ACF, AMAO, MBMN, VNQC, HS, OHN, MN, TDF, HCP, CSSO, MR, KFR, MTQ, AEFV, GMCM, EGSP,KGID,AEP, ACFF, MRC have collected the data. MCRP had full access to all study data and was responsible for submitting the manuscript. All authors read and approved the final manuscript.
Acknowledgements
The authors thank the National Institutes for Science and Research (INCT)—Diabetes and Obesity and the National Center for Science and Technology Development (CNPq) for funding this study.
Competing interests
The authors declare that they have no competing interests.
Open AccessThis article is distributed under the terms of the Creative Commons Attribution 4.0 International License (http://creativecommons.org/licenses/by/4.0/), which permits unrestricted use, distribution, and reproduction in any medium, provided you give appropriate credit to the original author(s) and the source, provide a link to the Creative Commons license, and indicate if changes were made. The Creative Commons Public Domain Dedication waiver (http://creativecommons.org/publicdomain/zero/1.0/) applies to the data made available in this article, unless otherwise stated.
Authors' Affiliations
(1)
Faculty of Medical Sciences, State University of Campinas, Campinas, Brazil
(2)
Unity of Diabetes, State University of Rio de Janeiro, Rio de Janeiro, Brazil
(3)
Department of Nutrology, Federal University of Rio de Janeiro, Rio de Janeiro, Brazil
(4)
Centre for Diabetes and Endocrinology in the State of Bahia (CEDEBA), Salvador, Brazil
(5)
Centro Integrado de diabetes e Hipertensão do Ceará, Fortaleza, Brazil
(6)
State University of Feira de Santana, Feira de Santana, Brazil
(7)
Federal University of Campina Grande, Campina Grande, Brazil
(8)
Hospital das Clínicas de Porto Alegre, Federal University of Rio Grande do Sul, Porto Alegre, Brazil
(9)
Santa Casa de Porto Alegre, Porto Alegre, Brazil
(10)
Hospital das Clínicas da Faculdade de Medicina, Universidade de São Paulo, São Paulo, Brazil
(11)
Hospital Regional de Taguatinga, Brasília, Brazil
(12)
Faculdade de Medicina, Federal University of Santa Catarina, Florianopolis, Brazil
(13)
Federal University of Sergipe, São Cristóvão, Brazil
(14)
Pontifícia Universidade Católica de Sorocaba, Sorocaba, Brazil
(15)
Division of Endocrinology, Hospital Agamenon Magalhães, Recife, Brazil
(16)
Faculdade de Medicina de Catanduva, Catanduva, Brazil
(17)
Faculdade de Medicina de Botucatu, UNESP, Botucatu, Brazil
(18)
Universidade de São Paulo, Faculdade de Medicina, Ribeirão Preto, Brazil
(19)
Santa Casa de Belo Horizonte, Belo Horizonte, Brazil