Targeting adipose tissue
Diabetology & Metabolic Syndrome
2012
4:43
Received: 20 June 2012
Accepted: 23 October 2012
Published: 27 October 2012
Abstract
Two different types of adipose tissues can be found in humans enabling them to respond to starvation and cold: white adipose tissue (WAT) is generally known and stores excess energy in the form of triacylglycerol (TG), insulates against cold, and serves as a mechanical cushion. Brown adipose tissue (BAT) helps newborns to cope with cold. BAT has the capacity to uncouple the mitochondrial respiratory chain, thereby generating heat rather than adenosine triphosphate (ATP). The previously widely held view was that BAT disappears rapidly after birth and is no longer present in adult humans. Using positron emission tomography (PET), however, it was recently shown that metabolically active BAT occurs in defined regions and scattered in WAT of the adult and possibly has an influence on whole-body energy homeostasis. In obese individuals adipose tissue is at the center of metabolic syndrome. Targeting of WAT by thiazolidinediones (TZDs), activators of peroxisome proliferator-activated receptor γ (PPARγ) a 'master' regulator of fat cell biology, is a current therapy for the treatment of type 2 diabetes. Since its unique capacity to increase energy consumption of the body and to dissipate surplus energy as heat, BAT offers new perspectives as a therapeutic target for the treatment of obesity and associated diseases such as type 2 diabetes and metabolic syndrome. Recent discoveries of new signaling pathways of BAT development give rise to new therapeutic possibilities in order to influence BAT content and activity.
Keywords
'Brite' adipocytesBrown adipose tissuePositron emission tomographyThermogenesisTransdifferentiationUCP1White adipose tissue
White adipose tissue as drug target
WAT is the largest lipid and energy storage in the human body. Excessive body fat, however, leads to insulin resistance, dyslipidaemia and type 2 diabetes. Over a long time it was believed that WAT is hormonally inert, but this paradigm is now obsolete. Today it is estimated, that the adipose organ is the largest endocrine organ of the human body [1]. Adipose tissue mainly produces and secretes cytokines such as adiponectin (encoded by the murine gene Adipoq), leptin (encoded by the murine gene Lep), resistin, tumor necrosis factor α (TNFα) and interleukins (ILs), which are referred to as adipokines according to their site of secretion [2]. In healthy (lean) subjects, adiponectin has a positive insulin sensitizing effect on other tissues [3]. Leptin is secreted by adipocytes and suppresses appetite by binding to leptin receptors in the central nervous system (CNS) [4]. In obesity, however, different adipokines take over control. Among others, resistin, IL-1, IL-6, and TNFα are secreted from adipocytes, fibroblasts, macrophages and monocytes which reside in adipose tissue. These adipokines are described to be involved in mediating insulin resistance in peripheral tissues and to increase the risk for type 2 diabetes [5–8]. Excess adiposity is not only associated with a dysregulation in adipokine profile, but also with an increased portal release of free fatty acids (FFA). The high concentrations of FFA decrease the hepatic degradation of apolipoprotein B and insulin, which may contribute to the dyslipidemia, hyperinsulinemia, and insulin resistance observed in visceral obesity [9].
A current pharmacological approach to counteract insulin resistance and type 2 diabetes is the use of thiazolidinediones (TZDs), which are agonists on peroxisome proliferator-activated receptor γ (PPARγ). TZDs promote differentiation of preadipocytes into white adipocytes [
10
] and are assumed to redirect FFA away from skeletal muscle towards adipose tissue (the so-called lipid steal hypothesis) [
11
,
12
]. TZDs are also implicated in positively influencing insulin resistance by decreasing the expression of TNFα, IL-1, and resistin while increasing the production of adiponectin [
2
,
13
]. A drawback of this therapeutic approach is weight gain caused by the accumulation of differentiated adipocytes, fluid retention, and an increased risk of cardiovascular events. These side effects are probably caused by the classical agonist action of TZDs. Choi et al. [
14
] have currently described a differential regulation of PPARγ. Ligands which prevent the high-fat diet (TNFα)-induced phosphorylation of Ser 273 of PPARγ by CDK5 and only have minimal agonist activity still retain a potent anti-diabetic effect [
14
,
15
]. Phosphorylation of PPARγ by CDK5 does not change its transcriptional activity
per se
but changes the expression of specific genes (e.g. reduction in
Adipoq
expression) (Figure
1
).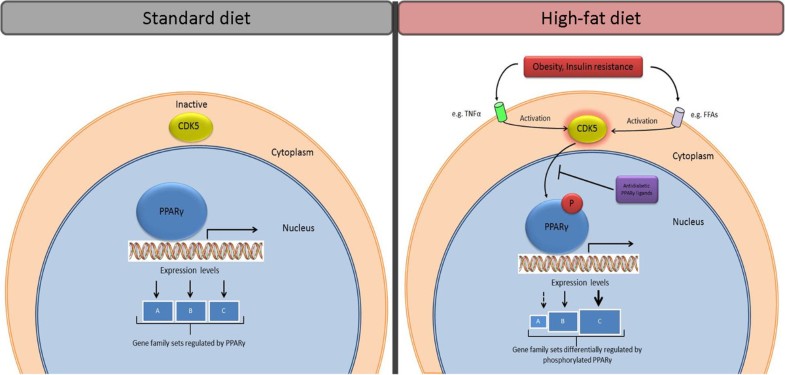 Promising partial PPARγ agonists such as NS-1 (5Z)-5-[4-hydroxy-3-methoxy-phenyl) methylene] thiazolidine-2, 4-dione) or balaglitazone are currently investigated [16, 17]. NS-1 induced adipogenesis in vitro to a 25 fold lesser extent than pioglitazone and improved hyperglycemia and insulin resistance in diet-induced obesity mice without significant weight gain. Balaglitazone already underwent phase III clinical trials and showed significant improvement in glucose handling and hemoglobin A1c (HbA1c) levels comparable to pioglitazone. Importantly, side effects like fluid retention and fat accumulation were less pronounced in the balaglitazone groups [18]. Thus, identification of 'partial' PPARγ agonists which prevent phosphorylation of Ser 273 but do not show classical agonist action might lead to more specific therapies reducing the emergence of side effects [14].
Another class of antidiabetic drugs, the sulfonylureas, which stimulate insulin secretion by blocking ATP-dependent potassium channels of pancreatic β-cells, have also been implicated to act on human white adipocytes. It has been demonstrated that glimeperide and glibencalmide induce the differentiation of human white preadipocytes and suppress cytokine expression probably by activation of PPARγ [19].
Another approach to target adipocytes is to increase lipolysis. Lipolysis in adipocytes is mediated by norepinephrin (NE) [20]. NE binds to β-adrenoceptors (β-ARs), which are highly abundant on the surface of adipocytes, and thereby activates adenylate cyclase (AC) which increases intracellular cAMP levels. As a consequence hormone-sensitive lipase (HSL) and perilipin are phosphorylated by PKA leading to the release of FFA. However, FFA themselves could increase insulin resistance, as mentioned above. This process is tightly regulated by the cGMP-inhibited phosphodiesterase 3B (PDE3B), which is expressed in white and brown adipocytes. Activation of PDE3B leads to increased hydrolysis of cAMP and thereby inhibition of catecholamine-induced lipolysis, reduction in insulin-induced glucose uptake, and lipogenesis (reviewed in [21]). Using the PDE3 inhibitor amrinone it could be shown that insulin's antilipolytic effect on human adipose tissue in vivo is mediated by stimulation of PDE3 [22]. Targeted-inhibition of PDE3B in conjunction with a β-AR agonist could therefore be a promising approach to increase intracellular cAMP levels in adipocytes. However, to date it is not known whether this approach is feasible due to the release of FFA. Furthermore, β-AR agonists and PDE inhibitors could have cardiovascular side effects.
Conclusions
Direct targeting of adipose tissue is still far from being a magic bullet for the treatment of obesity and type 2 diabetes. However, new options arise by targeting BAT to increase energy expenditure. Nevertheless, several questions remain to be answered before targeting of BAT as therapeutic option becomes possible. It is still not clear if chronic BAT activation leads to sufficient energy expenditure to achieve the therapeutic goal of weight loss. Furthermore, it is not known if compensatory mechanisms such as increased appetite might countervail increased energy expenditure. Well-directed cold exposure appears to be the most physiological stimulus to activate BAT. Optimum conditions for a targeted cold exposure of an anticipated "cold-therapy" need to be further elucidated. A pharmacological and cell-based therapy approach seems plausible and many druggable targets could be identified so far. On the other hand, many safety concerns remain, requiring the need for the identification of new drug targets and substances in line with a careful benefit-risk assessment.
Abbreviations
AC:

adenylate cyclase
AKT1:

protein kinase B
AMPK:

AMP-activated protein kinase
ATP:

adenosine triphosphate
BA:

bile acids
BAT:

brown adipose tissue
BMI:

body mass index
BMP:

bone morphogenic protein
C/EBPβ:

CCAAT/enhancer binding protein β
cAMP:

cyclic adenosine monophosphate
CB1:

cannabinoid type 1 receptor
CDK5:

cyclin-dependent kinase 5
cGMP:

cyclic guanosine monophosphate
CNS:

central nervous system
COX2:

cyclooxygenase 2
CT:

computer tomography
D2:

deiodinase type 2
EMA:

European Medicines Agency
FAS:

fatty acid synthase
FDG:

2-deoxy-2[18F]fluoro-D-glucose
FFA:

free fatty acids
Fndc5:

fibronectin type III domain containing 5
GC:

guanylate cyclase
GLUT:

glucose transporter
HBA1c:

hemoglobin A1c
HSL:

hormone-sensitive lipase
IL:

interleukin
iNOS:

inducible NO synthase
IR:

insulin receptor
IRS:

insulin receptor substrate
MAPK:

mitogen-activated protein kinase
MSCs:

mesenchymal stem cells
NE:

norepinephrin
NEFA:

nonesterified fatty acid
NO:

nitric oxide
NPRA:

NP receptor A
NPRC:

NP clearance receptor
NPs:

natriuretic peptides
p38MAPK:

p38 mitogen-activated protein kinase
PDE:

phosphodiesterase
PET:

positron emission tomography
PGC1α:

PPARγ coactivator 1α
PGs:

prostaglandines
PI3K:

phospoinositide 3 kinase
PKA:

protein kinase A
PKCζ:

protein kinase C ζ
PKG:

protein kinase G
PPARγ:

peroxisome proliferator-activated receptor γ
PRDM16:

PR domain containing 16
PTP1B:

protein tyrosin phosphatase 1B
RhoA:

ras homolog gene family member A
ROCK:

rho-associated protein kinase
SNS:

sympathetic nervous system
T3:

triiodothyronine
T4:

thyroxine
TG:

triacylglycerol
TGR5:

G-protein-coupled receptor 5
TNFα:

tumor necrosis factor α
TR:

thyroid hormone receptor
TZDs:

thiazolidinediones
UCP1:

uncoupling protein 1
WAT:

white adipose tissue
β-AR:

β-adrenoceptor.
Declarations
Acknowledgement
This review article was supported by intramural funding of the Federal Institute for Drugs and Medical Devices, 53175 Bonn, Germany.
Authors' Affiliations
(1)
Federal Institute for Drugs and Medical Devices, Bonn, Germany
(2)
University of Salzburg, Molecular Biology, Salzburg, Austria
Copyright
© Haas et al.; licensee BioMed Central Ltd. 2012
This article is published under license to BioMed Central Ltd. This is an Open Access article distributed under the terms of the Creative Commons Attribution License (http://creativecommons.org/licenses/by/2.0), which permits unrestricted use, distribution, and reproduction in any medium, provided the original work is properly cited.