Effect of Carnitine and herbal mixture extract on obesity induced by high fat diet in rats
Diabetology & Metabolic Syndrome
2009
1:17
Received: 20 July 2009
Accepted: 16 October 2009
Published: 16 October 2009
Abstract
Background
Obesity-associated type 2 diabetes is rapidly increasing throughout the world. It is generally recognized that natural products with a long history of safety can modulate obesity.
Aim
To investigate the development of obesity in response to a high fat diet (HFD) and to estimate the effect of L-carnitine and an Egyptian Herbal mixture formulation (HMF) (consisting of T. chebula, Senae, rhubarb, black cumin, aniseed, fennel and licorice) on bodyweight, food intake, lipid profiles, renal, hepatic, cardiac function markers, lipid Peroxidation, and the glucose and insulin levels in blood and liver tissue in rats.
Method
White male albino rats weighing 80-90 gm, 60 days old. 10 rats were fed a normal basal diet (Cr), 30 rats fed a high-fat diet (HFD) for 14 weeks during the entire study. Rats of the HFD group were equally divided into 3 subgroups each one include 10 rats. The first group received HFD with no supplement (HFD), the 2nd group HFD+L-carnitine and the third group received HFD+HMF. Carnitine and HMF were administered at 10th week (start time for treatments) for 4 weeks.
Body weight, lipid profile & renal function (urea, uric acid creatinine) ALT & AST activities, cardiac markers, (LDH, C.K-NAC and MB) the oxidative stress marker reduced glutathione (GSH), and Malondialdehyde (MDA) catalase activity, in addition to glucose, insulin, and insulin resistance in serum & tissues were analyzed.
Results
Data showed that feeding HFD diet significantly increased final body weight, triglycerides (TG), total cholesterol, & LDL concentration compared with controls, while significantly decreasing HDL; meanwhile treatment with L-carnitine, or HMF significantly normalized the lipid profile.
Serum ALT, urea, uric acid, creatinine, LDH, CK-NAC, CK-MB were significantly higher in the high fat group compared with normal controls; and administration of L-carnitine or herbal extract significantly lessened the effect of the HFD. Hyperglycemia, hyperinsulinemia, and high insulin resistance (IR) significantly increased in HFD in comparison with the control group. The treatment with L-carnitine or HMF improved the condition. HFD elevated hepatic MDA and lipid peroxidation associated with reduction in hepatic GSH and catalase activity; whereas administration of L-carnitine or herbal extract significantly ameliorated these hepatic alterations.
Conclusion
HFD induced obesity associated with a disturbed lipid profile, defective antioxidant stability, and high values of IR parameters; this may have implications for the progress of obesity related problems. Treatment with L-carnitine, or HMF extract improved obesity and its associated metabolic problems in different degrees. Also HMF has antioxidant, hypolipidaemic insulin sensitizing effects. Moreover HMF might be a safe combination on the organs whose functions were examined, as a way to surmount the obesity state; and it has a distinct anti-obesity effect.
Keywords
Uric AcidLicoriceCarnitineSibutramineHerbal Extract
Introduction
The global prevalence of obesity is increasing rapidly among adults as well as among children and adolescents in places where high dietary fat intake is a major risk factor for the development of obesity [1]. Obesity is reaching epidemic proportions worldwide; it is correlated with various comorbidities, among which the most relevant are dyslipidemia [2], diabetes mellitus T2DM [3], fatty liver (which can later progress to nonalcoholic fatty liver disease [4]), cardiovascular (CV) diseases such as heart failure (HF) and coronary heart disease (CHD) [5].
L-carnitine is essential for the transfer of long-chain fatty acids from the cytosol to mitochondria for subsequent beta oxidation. Its lack impairs the ability to use fat as fuel. This can result in an acute metabolic decompensation, most often early in life, with hepatic encephalopathy and hypoketotic hypoglycemia [6].
Carnitine (L-beta-hydroxy-gamma-N,N,Ntrimethyl-aminobutyric acid) is one of the "nutraceuticals" that has pleiotropic biologic effects. L-carnitine administration to carnitine-deficient rats led to normalization in myocardial function including indices of contractility relaxation, systolic diastolic blood pressure [7].
The liver is a central organ for carnitine metabolism; therefore it is not surprising that carnitine metabolism is impaired in patients and experimental animals with certain types of chronic liver disease. L-carnitine can have a therapeutic role in some of these conditions [8].
Nowadays there is an increased demand for using plants in therapy "back to nature" instead of using synthetic drugs which may have adverse effects. Traditional medicinal plants are often cheaper, locally available, and easily consumable (raw or as simple medicinal preparations). These simple medicinal preparations often mediate beneficial responses due to their active chemical constituents.
The reason for using herbs in combination is that herbs have chemicals components which can bring strong effects on body. When herbs are used in combination it helps the body better manage potentially undesirable effects of any one and each herb in the combination/formulation plays a curative or pacifying role. It is therefore preferable to use herbal combinations instead of depending on single herbs [9].
The HMF contains antioxidants, stimulant laxatives that are present in T. chebula, senna, licorice and rhubarb. The herbal supplement also includes carminatives which are represented by black cumin, aniseed, fennel, and licorice [10]. These carminative herbs are utilized to improve digestion or to treat dyspepsia or irritable bowel symptoms of ulcerative colitis; and to treat maladies of specific organs in the digestive system, such as the pancreas, liver, stomach or large and small intestines.
Demulcents and carminatives are often used to soften and physiologically balance the harsh effects of stimulant laxatives [11]. Both licorice and aniseed are considered to be flavors that by altering the characteristics of the solute, causing sweet and sour tanginess.
The ethanolic extract of roots of rhubarb led to the isolation of anthraquinones: chrysophanol, physcion, emodin, glucopyranoside, stilbenes: desoxyrhaponticin, rhaponticin, resveratrol, rhapontigenin, glucopyranoside, ampelopsin B and rhaponticin [12].
The mechanism of rhubarb action is twofold: 1) stimulation of colonic motility, which augments propulsion and accelerates colonic transit which in turn reduces fluid absorption from the fecal mass; 2) an increase in the paracellular permeability across the colonic mucosa, probably owing to an inhibition of Na+/K+ exchanging ATPase or to an inhibition of chloride channels. This results in an increase in the water content in the large intestine. Purgation is followed by an astringent effect owing to the tannins presence [13].
Licorice root is the dried peeled or unpeeled root of Glycyrrhiza glabra known as Spanish licorice; or of other varieties of Glycyrrhiza glabra [14].
Constituents with antioxidant capacity were isolated from Glycyrrhiza glabra. The isolated compounds were identified as the isoflavans, Hispaglabridin A, Hispaglabridin B, Glabridin; the two chalcones, isoprenyl chalcone derivative isoliquiritigenin; theisoflavone, formononetin. Among these compounds, Glabridin constituted the major component in the crude extract and the most potent antioxidant toward LDL oxidation [15].
Glycyrrhizin inhibited histamine release from rat mast cells prevented carbon Tetrachloride-induced liver lesions and macrophage-mediated cytotoxicity. Glycyrrhizin protected the liver apparently through its membrane stabilization effects [16]. Glycyrrhizic acid its glucoside, glycyrrhizin impart the unique licorice taste. Glycyrrhizin is 50 times sweeter than sucrose. Licorice sweetness has a slower onset than sugar so it is important for the palatability of the HMF.
Aniseed is the dried ripe fruits of the Pimpenella anisum family, containing licorice-like components, anise which is sweet, very aromatic and anethole, are the principal component of anise oil [17].
Fennel is the ripe fruit, or seed, of Foeniculum vulgare. It has a strongly aromatic odor somewhat bitter sweet pungent taste. The British Herbal Pharmacopoeia reported its action as a carminative is considered to be one of the best additions to purgative medicines, and it is often compounded with T. chebula, senna and rhubarb, in infusions or mixture [18]. Fennel seed extracts may possess a radical scavenging antioxidant activity due to the occurrence of some phenol compounds in fennel being responsible for such an activity [19].
Black cumin is the dried ripe seeds of Nigella sativa (NS), strongly aromatic when crushed, reminiscent of anise or nutmeg, also slightly bitter tasting at first, then spicy and somewhat pungent. It contains fixed, volatile oils which contain thymoquinone and several monoterpenes, including p-cymene a-pinene [20]. Many therapeutic effects of NS extracts have been documented, including immunomodulative, anti-inflammatory, antitumor, antidiabetic and antiulcerogenic [21] effects in both clinical and experimental studies.
Recently, the use of powerful drugs has become a popular means to overcome excess weight. Adverse effects may limit their overall usefulness. Accordingly, recent preliminary reports suggesting that herbs with along history of use of other natural substances is less likely to produce toxicity and might be effective in reducing food intake, promoting significant weight loss, are encouraging. Preliminary findings suggest that, at least, one formulation of herbs has such promise.
However, the effect of HMF on lipid peroxidation and antioxidant enzymes activities in obesity has not been examined and so far, little is known on the medicinal values of HMF. Thus, the present investigation was carried out in order to study the possible antiobesity, hypolipidemic, hypoglycemic and antioxidant effect of HMF. The effect was compared with L-carnitine in a model of high fat diet-induced obesity. Moreover, the extract was also tested for its hepatic cardiac and renoprotective effects in rats.
Material and Methods
This study was approved by the Committee of Scientific Ethics at Beni Suef University
Materials
1- Diets
composition of the experimental diet (g/kg diet) was according to the formula of Kim et al. [22]. It included the normal diet for control rats (fat 5%, carbohydrates 65%, proteins, 20.3% fiber 5%, salt mixture and 3.7% vitamin mixture 1%). The high fat diet contained fat 46%, carbohydrates 24%, proteins, 20.3%, fiber 5%, salt mixture 3.7%, vitamin mixture 1%. Normal and HFD constituents were purchased from El-Gomhoria Company, Cairo, Egypt. HFD was preserved at 4°C until used.
2- Experimental animals
40 white male albino rats weighing 80-90 gm, 60 day old were used for this study. They were purchased from the National Research Center, Cairo, Egypt. All animals were housed in stainless steel cages contain barriers for each rat for individual housing and the cage contain 6 rats and each rat had a tag number. They kept under standard environmentally controlled, clean-air room with temperature 24 ± 5°C, illumination (12 h light/12 h dark cycles), a relative humidity of 60 ± 4%, and water and rodent chow were available ad libitum throughout the period of the investigation. They were housed for two weeks after their arrival in the laboratory for accommodation.
Our work was carried out in accordance with the guidelines of Faculty of Science at Beni Suef University for animal use. These animals were used for induction of obesity.
Food consumption was calculated daily at the same time by subtracting the amount of food left over in each cage barrier for each rat from the measured amount of food provided at the previous day (gm/day/rat). The mean of food consumption per each rat was considered by dividing the amount of food eaten in a week by 7.
The average of food consumptions were represented in gm/day/rat and the body weight for each rat was determined once a week (g).
3- Drug administration
L-carnitine (dietary supplement): 1 ml containing 250 mg carnitine was purchased from the Arab Company for Pharmaceuticals Medicinal Plants (MEPACO, Egypt (Enshas El Raml-Sharkeiya). Oral administration of a dose of 250 mg/kg daily was done according to the method described by Oka et al [23]. Handling of the animal was the same for all groups and did not affect weight gain.
4- Plant material preparation of the herbal formulation
Herbs were purchased from local Mohey El-Attar Company in El-Minia city. Identification and extractions of medicinal plants were completed in department of Pharmacognacy, faculty of pharmacy, El Minia University.
The preparation, composition dose of the herbal formula of each herbal extract in the HMF and the identification of their main chemical groups were realized as previously described as follow: Rhubarb 750 mg/kg body weight according to Kang Jin [24], senna (Cassia angustifolia) 750 mg/kg body weight [25], T. chebula 750 mg/kg body weight [26], Sweet fennel 300 mg/kg body weight [11], Aniseed 10 mg/kg body weight [27], licorice (Glycyrrhiza galabra) 300 mg/kg body weight [15] Black cumin (Nigella sativa) 300 mg/kg body weight [28].
The extraction was done by water extract for T. chebula, ethanol for senna and Nigella sativa, ethanol-water extract for rhubarb, licorice, Pimpenella anisum and Foeniculum vulgare (fennel). The extract of each plant was collected and the mixture administered orally as a suspension by stomach tube at a dose of 790 mg/kg body weight daily, the volume of the vehicle being kept constant at 1 ml/kg.
The identified compounds belonged to some specific structural types: flavenoids glabridin, and sennosides. After isolation by several column chromatographic steps from the extract and characterization by spectroscopic methods, the main compounds were identified as triterpenoids, coumarin, gallic acid, chebulin and ellagic acid as well as other phenolic compounds from T. chebula extraction.
Anthraquinones, rhein, and tannins were isolated from rhubarb extraction. Glabridin from Glycyrrhiza galabra extraction, thymoquinone from Nigella sativa extraction. Phenolic content, d-limonene β-myrcene from Foeniculum vulgare (fennel) extraction and anethole form Pimpenella anisum extract.
Methods
1-Experimental design and animal grouping
A total 40 rats were randomly assigned into two groups, normal 10 rats and obese 30 rats. Obesity was induced in rats for 70 day by feeding the high fat diet. The rats were included in four groups after induction of obesity. In the experiment 10 rats were used in each group.
• Normal group, 10 rats fed on normal diet during the entire study (98 day).
• Obese group, 10 rats given high-fat diet during the entire study (98 day) and saline oral daily by using stomach tube at 10th week.
• HFD+carnitine group, 10 obese rats received HFD during the entire study and 250 mg/kg L-carnitine for 28 days as a single daily dose in the morning.
• HFD+ HMF group, 10 obese rats received HFD during the entire study and 790 mg/kg mixed herbal extract for 28 days as single oral daily by using stomach tube.
Our goal is to achieve obesity model in 10 weeks following by treatment period for 4 weeks. This model provided us reliable method and resembles the clinical cases of obesity and its treatments; also this period of treatment is safe and recommended in previous research.
2- Sampling and tissue preparation
Blood Sampling
By the end of the experimental periods, venous blood samples were collected from the orbital sinus of normal, obese control, obese treated rats via glass capillaries at fasting state. The blood samples were collected in dry glass centrifuge tubes, allowed to coagulate at room temperature and centrifuged at 3500 rpm for 15 minutes at room temperature for separation of serum.
The clear, non-haemolysed supernatant sera were separated using clean dry disposable plastic syringes and stored at -20°C for subsequent biochemical measurements as follows: lipid profile, liver enzyme activities related to its function, kidney function, heart biomarkers, glucose, insulin concentration, and oxidative stress markers.
Tissue samples
Rats were sacrificed by decapitation and an abdominal incision was immediately done for separation of hepatic, perirenal, and visceral adipose tissues. These were dried on filter paper and weighed (g.). The liver was immediately excised and weighed (g.) and underwent homogenization for GSH & MDA catalase measurements.
3- Biochemical analysis of Serum and tissue
Serum glucose was estimated according to the method of Trinder [29] using Stanbio Laboratory USA Kits. Serum insulin was assayed in the Radioactive Isotopes Unit, Central Department of Scientific Analysis and Testing, National Research Center (Dokki, Giza) using radioimmunoassay kits (Diagnostic Products Corporation, Los Angeles, USA) [Coat-A-Count] according to the method of Marschner et al. [30]. Insulin resistance was calculated using the Homeostasis Model Assessment [31]. ALT and AST activities were measured according to the method of Reitman et al., [32] using kits purchased from Rox Company, United Kingdom.
Serum urea and creatinine levels were measured colorimetrically [33]; serum uric acid was measured according to the method of Sanders et al.[34] using kits purchased from Diamond Diagnostic Egypt. Serum was analyzed for total cholesterol [35], triglycerides [36], VLDL [37], and HDL [38], by enzymatic colorimetric methods using kits.
Serum was evaluated for CK-MB [39] CK-NAC and LDH activity [40]. Liver lipid peroxidation was measured through Malondealdehyde (MDA) levels, according to the methods of Mihara and Uchiyama [41]. Liver glutathione content and catalase (CAT) activity was determined according to the procedure of Beutler et al. [42] and Cohen et al. [43] respectively.
Statistical analysis
Statistical analysis was carried out using Graph Pad Instat software (version 3, ISS-Rome, Italy). Unless otherwise specified, groups of data were compared with an unpaired t-test one-way analysis of variance (ANOVA) followed by Tukey-Kramer (TK) multiple comparisons post-test. Values of P < 0.05 were regarded as significant. Data were expressed in tables and figures as mean ± standard error (SEM).
Results
Body weight increased significantly in rats on the HFD compared with controls (Figure
1
), while treatments with L-carnitine or HMF significantly reduced this gain during the treatment period (Table
1
and figure
2
).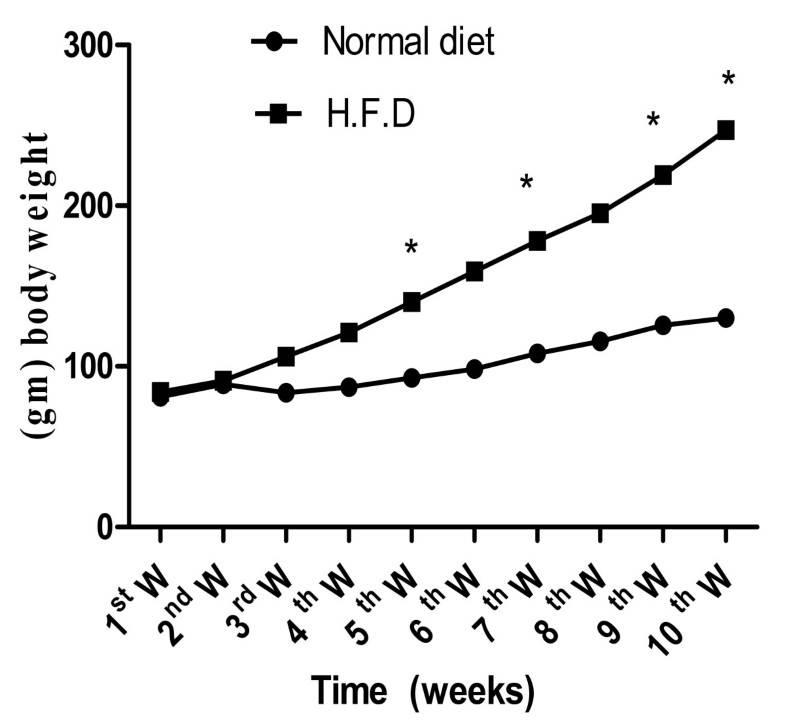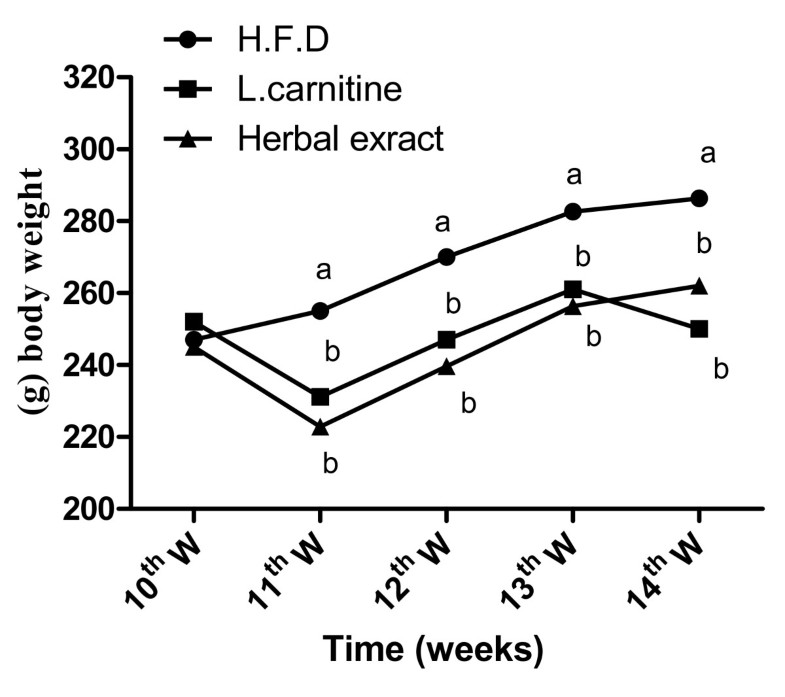 Table 1
Effect of HFD, L-Carnitine and HMF on whole body weights of rats.
| Weeks | HFD | L. carnitine | HMF |
| --- | --- | --- | --- |
| 11 th Week | 255.0 ± 3.54a | 231.2 ± 2.56b | 222.8 ± 3.58b |
| 12 th Week | 270.0 ± 2.60a | 247.0 ± 3.36b | 239.6 ± 4.19b |
| 13 th Week | 282.6 ± 2.09a | 261.0 ± 3.81b | 256.4 ± 5.07b |
| 14 th Week | 286.4 ± 3.97a | 250.0 ± 3.41b | 262.0 ± 6.04b |
Food consumption increased significantly in the HFD group compared with controls (Figure
3
), while treatments with L-carnitine or HMF significantly ameliorated the changes during the treatment period (Table
2
and figure
4
).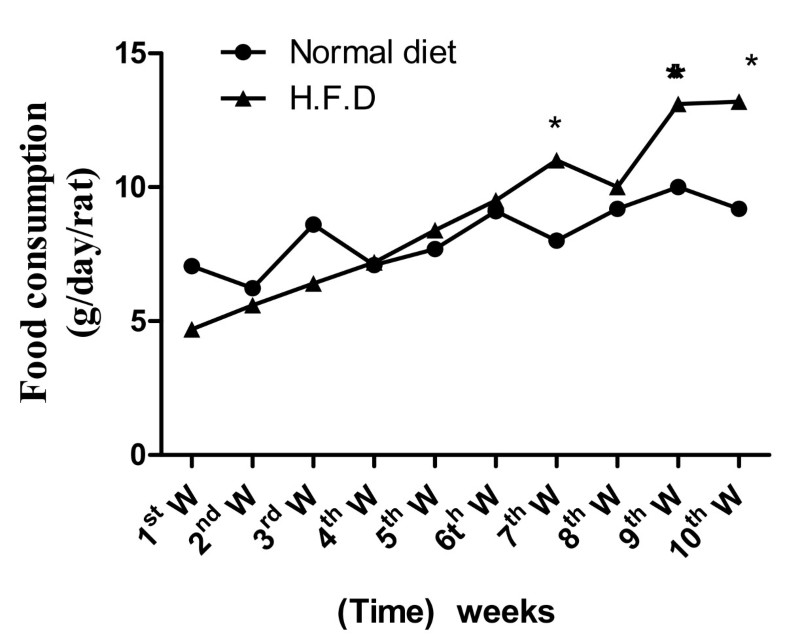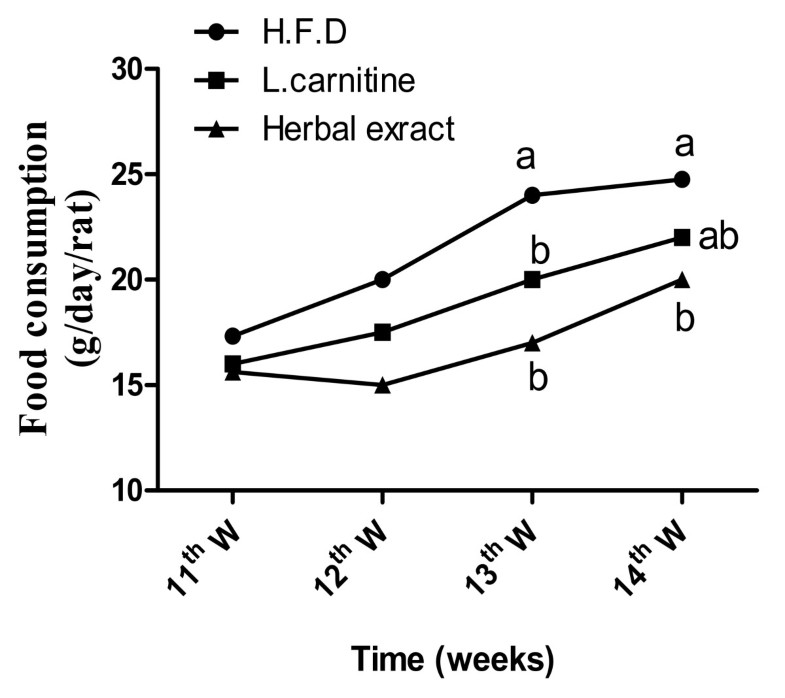 Table 2
Effect of HFD, L-Carnitine and HMF on food intake in rats
| Weeks | HFD | L. carnitine | HMF |
| --- | --- | --- | --- |
| 11 th Week | 17.33 ± 1.05a | 16 ± 1.58a | 15.63 ± 0.62a |
| 12 st Week | 20 ± 1.58a | 17.50 ± 1.32a | 15 ± 0.71a |
| 13 th Week | 24 ± 2.27a | 20 ± 1.63b | 17 ± 1.23b |
| 14 th Week | 24.75 ± 2.29a | 22 ± 1.83a, b | 20 ± 1.47b |
Serum TG, cholesterol, LDL/VLDL levels, and perirenal and mesenteric fat were significantly elevated in the HFD group, while HDL was significantly decreased compared to the controls. Additional administration of L-carnitine or HMF significantly improved these changes (Table
3
).
Table 3
Effect of HFD, L-Carnitine and HMF on plasma lipid profile and adipose tissues weight in HFD rats
| | Normal diet | HFD | L-Carnitine | HMF |
| --- | --- | --- | --- | --- |
| TG (mg/dl) | 63.94 ± 2.19 | 172.6 ± 1.73**a | 118.5 ± 1.21 b | 116 ± 1.83b |
| VLDL (mg/dl) | 12.79 ± 0.44 | 34.52 ± 0.35**a | 23.69 ± 0.24b | 23.20 ± 0.37b |
| T.C (mg/dl) | 95.29 ± 1.03 | 152.7 ± 2.56**a | 109.6 ± 1.51b | 113.1 ± 1.54b |
| HDL (mg/dl) | 70.97 ± 1.89 | 53.34 ± 2.52**a | 67.45 ± 1.4b | 65.59 ± 1.36b |
| LDL (mg/dl) | 12.48 ± 2.0 | 67.06 ± 1.65**a | 17.29 ± 0. 85b | 17.42 ± 2.08b |
| Visceral fat (gm) | 3.54 ± 0.51 | 14.8 ± 1.07**a | 10.10 ± 0.33b | 10.40 ± 0.93b |
| Perirenal fat (gm) | 3.54 ± 0.51 | 14.8 ± 1.07**a | 10.10 ± 0.33 b | 10.40 ± 0.93b |
Serum LDH, CK, AST, ALT, urea, uric acid, and creatinine concentrations were significantly higher in the HFD group compared to the control one; these changes, were affected by supplementation with L-carnitine and HMF (Table
4
).
Table 4
Effect of HFD, L-Carnitine and HMF on cardiac biomarkers, liver enzyme activity and kidney function tests of HFD rats
Normal diet

HFD

L-Carnitine

HMF

LDH

(u/I)

258.5 ± 10.8

541.7 ± 10.62**a

472.8 ± 6.4b, c

497.9 ± 8.23b

C.K-NAC

(u/I)

250.2 ± 12.6

457.7 ± 10.58**a

407.4 ± 8.9b

396.4 ± 8.92b, c

C.K-MB (u/I)

130.0 ± 5.03

262.0 ± 9.55**a

213.8 ± 3054b

209.8 ± 8.95b

AST (u/I)

24.94 ± 0.95

56.8 ± 1.09**a

41.18 ± 1.11b

44.24 ± 1.09b

ALT (u/I)

17.14 ± 0. 93

5.37 ± 0.95**a

24.60 ± 0.69b

25.67 ± 0.95b

Urea (mg/dl)

36.60 ± 0.94

50.11 ± 1.33**a

40.86 ± 0.71b, d

42.36 ± 0.72b

Uric acid (mg/dl)

2.33 ± 0.07

5.92 ± 0.08**a

4.94 ± 0.07b

5.13 ± 0.05b

Creatinine (mg/dl)

0.59 ± 0.05

1.31 ± 0.06**a

0.96 ± 0.02b

1.01 ± 0.03c
Serum levels of glucose, insulin and hepatic MDA, were significantly raised, while hepatic GSH and catalase were significantly lowered in the HFD group compared to the controls. These alterations were ameliorated by administration of L-carnitine HMF but there were no differences between L-carnitine and HMF (Table
5
).
Table 5
Effect of diet and treatments on serum glucose, insulin, insulin resistance lipid peroxidation in obese rats
Normal diet

HFD

L-Carnitine

HMF

Glucose (mg/dl)

57.87 ± 1.96

145.1 ± 2.26**a

120.9 ± 1.96b, c

118.0 ± 3.23c, d

Insulin

(μIU/ml)

4.40 ± 0.15

6.69 ± 0.13**a

4.5 ± 0.07b

4.41 ± 0.04b

Insulin resistance

1.17 ± 0.09

2.89 ± 0.07**a

2.46 ± 0.09b

2.40 ± 0.05b

M.D.A (n mol M.D.A/g/hr)

4.69 ± 0.06

9.72 ± 0.08**a

7.96 ± 0.08b, c

8.21 ± 0.07b

GSH (n mol/

100 mg tissue)

72.65 ± 0.72

57.31 ± 0.72**a

68.77 ± 0.89b, c

68.45 ± 0.46b

Catalase (K×10-2)

52.60 ± 0.96

19.88 ± 0.63**a

36.97 ± 0.71b

32.22 ± 1.06c
Declarations
Acknowledgements
This study was supported by Beni Suef University. We appreciate the assistance and advice of Prof. Dr Bastawy M., Vice Dean of College of Science, Beni Suef Univ. and Dr. Abdel Hameid H. for kind co-operation.
Authors' Affiliations
(1)
Biochemistry Department Faculty of Veterinary Medicine, Beni-Suef University, Beni-Suef, Egypt
(2)
Chemistry Department Faculty of Science Beni-Suef, Beni-Suef University, Beni-Suef, Egypt
Copyright
© Amin and Nagy; licensee BioMed Central Ltd. 2009
This article is published under license to BioMed Central Ltd. This is an Open Access article distributed under the terms of the Creative Commons Attribution License (http://creativecommons.org/licenses/by/2.0), which permits unrestricted use, distribution, and reproduction in any medium, provided the original work is properly cited.