Erratum: Neuroendocrine and metabolic components of dopamine agonist amelioration of metabolic syndrome in SHR rats
Diabetology & Metabolic Syndrome
2015
7:61
Received: 24 February 2015
Accepted: 18 June 2015
Published: 4 July 2015
The original article was published in Diabetology & Metabolic Syndrome 2014 6:104
After publication of this manuscript [
1
], we noted errors to the labels of Fig.
7
. The Y-axis of panel C was incorrectly labelled as "Plasma Adiponectin, ng/ml" instead of "PEPCK, % of Vehicle". (Please see a corrected version of Fig.
7
below).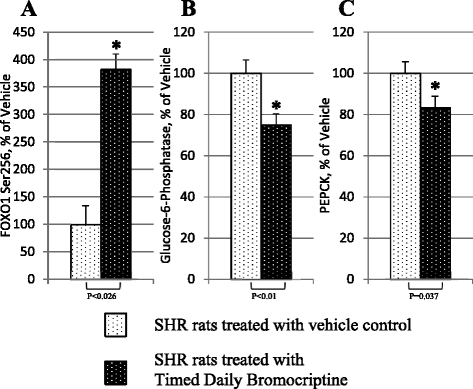 (1)
VeroScience LLC, Tiverton, RI 02878, USA
Ezrokhi M, Luo S, Trubitsyna Y, Cincotta AH. Neuroendocrine and metabolic components of dopamine agonist amelioration of metabolic syndrome in SHR rats. Diabetol Metab Syndr. 2014;6:104.PubMed CentralView ArticlePubMedGoogle Scholar
© Ezrokhi et al. 2015
This is an Open Access article distributed under the terms of the Creative Commons Attribution License (http://creativecommons.org/licenses/by/4.0), which permits unrestricted use, distribution, and reproduction in any medium, provided the original work is properly credited. The Creative Commons Public Domain Dedication waiver (http://creativecommons.org/publicdomain/zero/1.0/) applies to the data made available in this article, unless otherwise stated.