Link between insulin resistance and hypertension: What is the evidence from evolutionary biology?
Diabetology & Metabolic Syndrome
2014
6:12
Received: 8 July 2013
Accepted: 28 January 2014
Published: 31 January 2014
Abstract
Insulin resistance and hypertension are considered as prototypical "diseases of civilization" that are manifested in the modern environment as plentiful food and sedentary life. The human propensity for insulin resistance and hypertension is a product, at least in part, of our evolutionary history. Adaptation to ancient lifestyle characterized by a low sodium, low-calorie food supply and physical stress to injury response has driven our evolution to shape and preserve a thrifty genotype, which is favorite with energy-saving and sodium conservation. As our civilization evolved, a sedentary lifestyle and sodium- and energy-rich diet, the thrifty genotype is no longer advantageous, and may be maladaptive to disease phenotype, such as hypertension, obesity and insulin resistance syndrome. This article reviews human evolution and the impact of the modern environment on hypertension and insulin resistance.
Keywords
Insulin resistanceHypertensionEvolutionInflammation and sodium
Background
Diminished tissue sensitivity to insulin is a characteristic of various pathological conditions termed the insulin resistance syndrome, also known as the metabolic syndrome or cardiometabolic syndrome [1]. The metabolic syndrome is not a single disease, but rather a complex cluster of symptoms that include a large waist circumference, hypertension, hyperglycermia, dyslipidemia and insulin resistance, all of which are commonly associated with increased risk of obesity and Type 2 Diabetes [2]. Since patients with metabolic syndrome are commonly afflicted with cardiovascular morbidities, the metabolic syndrome and cardiovascular diseases share common pathways including increased oxidative stress, defective glucose, lipid metabolism, low grade inflammation, hypercoagulability and endothelial damage. Previously, investigators proposed to use the "circulatory syndrome" to refine the metabolic syndrome concept through the addition of markers of cardiovascular diseases such as renal impairment, microalbuminuria, arterial stiffness and left ventricular dysfunction [2]. It has become increasingly obvious that insulin resistance and the efforts made by the insulin-targeted organs to compensate for this defect play a vital role in the pathogenesis and clinical course of the metabolic syndrome [3].
Insulin resistance and hypertension are the components of metabolic syndrome and often coexist [4]. Clinical studies have shown that about 50% of hypertensive individuals have hyperinsulinemia or glucose intolerance, whereas up to 80% of patients with type 2 diabetes have hypertension [4, 5]. In addition to its metabolic effects, insulin induces vasorelaxation by stimulating the production of nitric oxide (NO) in endothelium [6] and regulates sodium homeostasis by enhancing sodium reabsorption in the kidney [7, 8]; thereby, contributing to the regulation of blood pressure. Recent studies have demonstrated that insulin resistance can develop not only in the classic insulin-responsive tissues, but also in cardiovascular tissues where insulin participates in the development of cardiovascular diseases and hypertension [1, 9]. Insulin resistance has gained a bad name and is perceived as deleterious: commonly associated with the metabolic syndrome and hypertension that confer an increased risk for type 2 diabetes and cardiovascular diseases [9]. However, in human evolutionary history, insulin resistance may be an essential part of normal homeostasis to facilitate redirection of nutrients to pivotal organs and a physiological adaptive mechanism to promote our ancestor's survival in times of critical conditions; such as, famine, infection, trauma and stress [10, 11]. The same mechanism may be inappropriately activated on a chronic basis on the current obesogenic environment, leading to the manifestation of hypertension, insulin resistance or metabolic syndrome [12]. This article reviews human evolution and the impact of modern environment on hypertension and insulin resistance.
Conclusions
Abundant clinical and epidemiologic evidences demonstrate a close linkage between insulin resistance and hypertension. The coexistence of insulin resistance and hypertension results in a substantial increase in the risk of developing cardiovascular disease and type II diabetes [
5
]. Underlying the mechanisms is complex and may involve a low grade chronic inflammation and oxidative stress. As humans evolve, the thrifty genotype for high cytokine responder (eradication of injury), mild insulin resistance (protection against starvation), or sodium preservation (maintenance of body fluid),which favored our ancestors, aiding them in the survival of critical conditions such as famine, infection, trauma and physical stressors, may be positively selected, which may be maladaptive to our current, modern lifestyle, resulting in insulin resistance, hypertension, type II diabetes and cardiovascular diseases (Figure
1
) [
12
,
61
].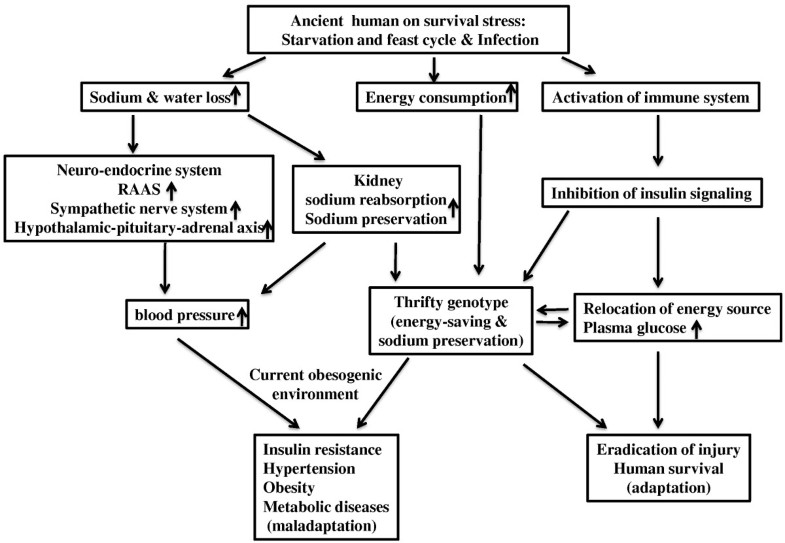 Declarations
Acknowledgment
This work was supported by a Florida JEK Biomedical Research grant and AHA National Scientist Development Award to MSZ, and grants from National Natural Science Foundation Of China (31271585) and Minister of Science and Technology of China (2012CBA1305) to HY.
Authors' Affiliations
(1)
Department of Physiology, Liaoning Medical University, Jinzhou, Liaoning, China
(2)
Department of Cardiology, 2nd Affiliated Hospital, School of Medicine, Zhejiang University, Hangzhou, Zhejiang, China
Copyright
© Zhou et al.; licensee BioMed Central Ltd. 2014
This article is published under license to BioMed Central Ltd. This is an open access article distributed under the terms of the Creative Commons Attribution License (http://creativecommons.org/licenses/by/2.0), which permits unrestricted use, distribution, and reproduction in any medium, provided the original work is properly cited.